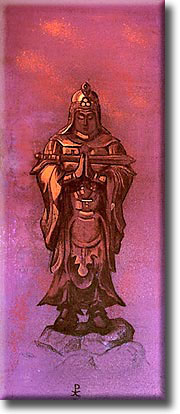 Sup394 - Urusvati knows both grief and joy, and who does not? Yet, the Golden Mean brings them into balance; for this reason the Sage taught the Middle Way. But people fail to recognize where the higher joy is and where the depth of sorrow. Frequently, although the arrow of sorrow has already passed, they will persist in their fear and suffering, and likewise, although joy may already be passing, they try to prolong it and remain under its spell.
We certainly do not advocate lack of feeling, in which suppressing grief also erases joy. We will never advocate indifference, for that would be death. On the contrary, in everything We emphasize life, but warn against phantoms. Thus, We advise full awareness of the painful sting of grief and the fresh breath of the highest joy. On Earth as well as in the Subtle World one must be able to accept joy and overcome sorrow.
It is said about a Warrior that he is unchanged in joy and in sorrow, in victory and in defeat. It is not about indifference that We speak, but about a degree of intensity that, by its velocity of motion, prevents perception of extremes. I often speak about a bad experience and at the same time refer to joy. In the speed of his movement the pilgrim passes quickly over both mountain and abyss. He is so absorbed in his mission that his striving carries him over all obstacles upon the wings of success. Likewise, We are in such tension that Our striving carries Us through, with new measures of time and events.
The Thinker, while absorbed in His earthly labors, prayed, "Let grief not be a stumbling block, nor joy a blinding ray."